Awhile back I saw some antlers on
Miss Mustard Seed
's blog.
I got so excited! Let me explain why. I'm a gal who grew up in the country with a dad who hunted. I wasn't too into the mounted heads but I really did love the antlers! It seemed a little "hick", though. So I put that love behind me until I saw MMS's blog. Who knew antlers could be so sophisticated?!
So I'm back in love!
Now, where to get some antlers? Enter the men of my life!
(Sorry about the quality of this pic. It was taken with a Blackberry.)
Saturday morning my boys (and man) headed to western Oklahoma to go hunting for White Tail Deer. No luck that morning but they stuck around and gave another shot that evening and...
Well, I'll spare you the "could be construed as gory" picture of my manly hubby and my boys with a rifle and formerly breathing buck but suffice it to say, I've got my antlers!
Here are some great ideas on decorating with antlers.
Photo Source: Savvy Southern Style
Photo Source: Country Living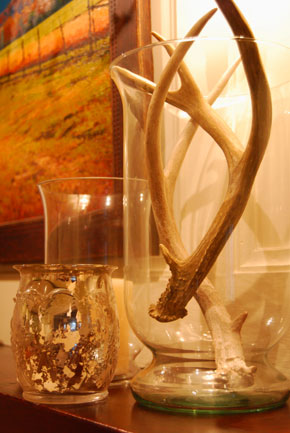 Photo Source: Casasugar
Photo Source: Pottery Barn
Wishing everyone a blessed Thanksgiving!